Adobe InDesign Training – Level I. Virginia and Online classes
Adobe InDesign – Level I Training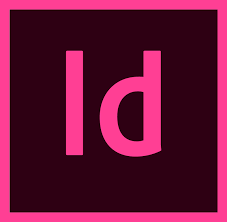 This Adobe InDesign training provides you with the knowledge to create, preflight, and publish everything from printed books and brochures to digital magazines, iPad apps, eBooks, and interactive online documents. In this class we will taught how to use this professional tool by a certified instructor with years of experience in training and production.
InDesign is a powerful design and production application that offers precision, control, and seamless integration with other Adobe professional graphics software such as Adobe Photoshop and Adobe Illustrator. It has long been the industry standard for publications such as books, magazines, and brochures, and it has now become the industry standard for creating ePubs, interactive PDFs, and interactive magazines that are viewed on tablets such as iPads. InDesign is used by designers, graphic artists, and anyone who wants more control over placing elements on a page. In this Introduction class, you will learn the basics of InDesign, including:
An overview to the workspace.
Set up a document from scratch using multiple master pages, pages of varying sizes, and adding page numbers.
Understand layers, create and format text and graphic frames, including adding text wrap, changing the shape of frames, and aligning frames.
Import text from Microsoft Word and flow it into InDesign across threaded text frames.
Use Find/Change, Spell Check, and Story Editor.
Create and apply colors, gradients, spot colors, and tints to text and objects.
Class Outline
1. Introducing the Workspace
Looking at and customizing the workspace
Working with panels and tools
Changing the magnification of a document
Navigating through a multipage document
2. Getting to Know InDesign
Preflighting as you work
Viewing guides
Adding and formatting text
Working with styles, graphics, and objects
3. Setting Up a Document and Working with Pages
Creating a new document
Working with master pages and applying master pages to document pages
Adding, rearranging, and deleting document pages
Changing the size and orientation of pages
Using sections to change the format of the page numbers
Placing text and graphics on document pages
Overriding master page items on document pages
4. Working with Objects
Working with layers
Creating and modifying text and graphic frames
Adding metadata captions to graphics frames
Placing and linking graphics frames
Changing the shape of a frame
Wrapping text around a graphic
Transforming and aligning objects
Working with grouped objects
5. Flowing Text
Flowing text into existing frames
Creating text frames while placing text
Flowing text manually, semi-automatically, and
automatically
Creating threaded frames
Resizing text frames manually and automatically
Adding a jump line page number
6. Editing Text
Finding and changing a missing font
Finding and changing text and formatting
Check spelling
Using the story editor
Tracking changes
7. Working with Color
Managing Color
Adjusting display quality of images
Defining printing requirements
Creating and applying colors to text and objects
Working with gradients, spot colors, and tints
Creating a dashed line
Address:
Description:

Live Online Training
Get the same training you expect in the classroom without leaving your office or home. These are NOT recorded classes. They are LIVE sessions with an expert instructor. We use the latest in video conferencing technologies and audio so you can confidently participate in any class just like being right there in person. We guarantee the effectiveness of our online training delivery approach that we will give you your money back if you are not totally satisfied.  Ask us for a demo.
Online class requirements:
Moderate to fast Internet
A phone or computer headset is required in order to hear the instructor/moderator). You can use Computer Audio (VoIP) or you can dial in from a regular phone.  For convenience, we recommend a hands-free headset or phone.
Training software must be installed on your computer (trial versions are acceptable)
RECOMMENDED: Dual Monitors or computers. For optimal online learning experience, we recommend participants have dual monitors or two computers. Your online classroom credentials allow you to join multiple times from multiple computers. Participants should use one monitor or computer to view the instructor's shared screen and another monitor or computer to work with the software.
What happens when you enroll in an online class
When you register for an online class, you will receive a welcome email followed by login access to the Citrix GoToTraining virtual classroom. A workbook (printed copy or eBook) will be sent to you prior to the start of class.
Online Training Advantages
Convenience: You don't have to travel and can attend from your home, office or anywhere with an internet connection. Our online classes are conducted using GoToTraining, a more robust version of the popular GoToMeeting screen sharing and conferencing platform. To accommodate multiple time zones, courses are typically scheduled from 10am – 5pm Eastern with a one-hour lunch break at 12:30 – 1:30 pm Eastern and a 10-minute break in the morning and afternoon. When conducting custom online course for your group, class times can be modified to accommodate your timezone.
Interactive Learning: Our online training is fully interactive. You can speak and chat with the instructor and classmates at any time. Various interactive techniques are used in every class. Our small class sizes (typically 4 – 8 students), allow our instructors to focus on individual performance and issues and to work closely with you to meet your unique needs. Classes are designed to be a hands-on learning experience, providing opportunities for you to try your new skills while the instructor is available for review, questions, and feedback. You have the option to give the instructor permission to view your computer to provide one-on-one assistance when needed.