Articulate 360 Training
Storyline . Rise . Review . Replay
Essentials and Advanced Levels – 2-day classes taught by industry experts
After you complete the Articulate Storyline Training, we provide FREE follow-up support. You'll have LIVE one-on-one access to our certified instructors for a whole year when you need it.
You have the option to attend all Articulate classes in person at our location in  Herndon, VA, or attend remotely (live online). When you register, you will have the option to check if you prefer to attend remotely.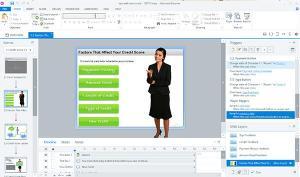 With over 500 Articulate classes and workshops in the classroom and online over the past nine years, we are a leading provider of Articulate training nationwide. Our 2-day hands-on Articulate Storyline training classes:
We also provide training in Aritculate Studio '13 Pro and 360 (Presenter, QuizMaker, Engage, and Replay).
Our instructors are certified technical trainers (CTT+) and experienced e-Learning developers. They have practical instructional design backgrounds and great ability to teach technical subjects.
Certification is provided after completing the training.
1.2 ICCOTP Continuing Education Units (CEUs) are given for each 2-day class
---
Select From These Articulate Training Courses
Select any training course below for a full schedule of upcoming Articulate Storyline and Articulate Studio training events. All courses
---
Articulate Storyline Training – Level I
In this course, we'll introduce you to Articulate Storyline, an e-learning tool used to develop training courses for more than 80 million learners in 150 countries. You'll explore the Storyline interface while learning to build interactive content.
Learn how to plan and build Storyline projects from scratch, add scenes and slides, apply masters, and import content from Microsoft PowerPoint. You'll add common slide elements as text, images, characters, and captions.
Beyond common element basics, you'll explore Storyline interactivity, layers, and media controls (audio and video). Finally, we'll wrap up your Level 1 training with an introduction to variables, comprehensive coverage of quiz creation, recording, and publishing.
Articulate Storyline Training – Level II (Advanced)
In this course, we'll expand on the basics of Articulate Storyline and deep dive into advanced Themes & Templates, Scenario Training, Learning Path Models, Custom Navigation and Progress Bars, Gamification, Video Control and Sliders, Importing Quiz Questions, Extending Storyline with JavaScript, Building Simulations, Motion Paths, Accessibility and Reporting, SCORM Packaging and Publishing Considerations, and E-Learning Best Practices.
Articulate Studio Training
In this course, we'll introduce you to Articulate Studio 13 (or Articulate Studio 360) – Presenter, QuizMaker, Engage, and Replay. You'll gain the knowledge and hands-on practice to rapidly develop e-Learning course modules, and create compelling e-Learning presentations and interactive simulations. You'll also learn how to add interactivity and narration to your PowerPoint presentations, create quizzes with Articulate Quizmaker, record full motion video demos, and publish SCORM packages.